Custom Website Design
We specialize in custom web design and native application development tailored to seamlessly harmonize with your business needs. Our team of professionals deliver web design, programming, and online marketing solutions that are impactful and enduring. We launch superior websites, programs, and marketing campaigns at reasonable prices. Get in touch!
Quick Contact
Get a Quote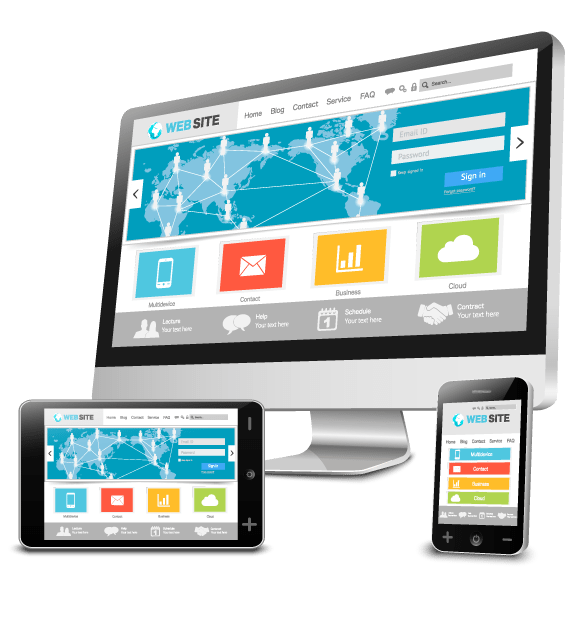 Mobile-friendly Design
We specialize in responsive web design and development! We only develop websites using the latest and safest technologies.
Ecommerce Websites
We specialize in E-Commerce and M-Commerce and love helping craft winning conversion strategies.
Online Marketing
Increase visibility, boost traffic, and grow sales with our Search Engine Optimization (SEO) and email marketing tools.
We work with you to help determine the requirements of the project, from a technical, creative, and organizational perspective to make sure we understand your project.
We will spend time getting to really understand your project by analyzing past and present marketing materials, discussing future marketing strategies, and aligning them with your project.
After the design phase, all of the programming and coding will begin to take place and the custom features and functions of the website or application will begin to take shape.
1. ANALYSIS
First step is about information gathering. Identifying things such as website purpose, goals and target audience
2. PLANNING
A plan includes the definition, site map, website structure, and technologies that we will be using to build your site.
3. DESIGN
Not only do we focus on wireframe models and the visual style at this stage, but also on the usability of the user interface for the best possible user experience.
4. CONTENT
A very important part of the process is choosing the right text, photos or videos, all optimized for not only for website visitors, but also Search Engines (SEO)
5. DEVELOPMENT
Here we actually create the website using HTML, CSS, JAVASCRIPT with some help from databases and other technologies as well. We make sure that every single site that we build is mobile responsive.
6. TESTING
We test all the technical features, like the code and scripts, compatibility with all major browsers to make sure every feature works as expected.
7. DEPLOYMENT
After going live we can monitor and maintain your website for you, to make sure it is always functional.
Security
We scan your website on a regular basis to find and fix malware and vulnerabilities then use our protective firewall to keep harmful traffic away for good, all while caching technology speeds up your website and gives your SEO a boost.
Reliability
When your website is hosted with us you can have peace of mind that your data is safe. We backup your website files and databases daily to ensure that your data is safe at all times.
Amazing job guys. Our website looks great! We are really impressed by your work and customer service. The end result was more than what we expected. We are definitely going to recommend Sysnovo to friends and family who needs web solutions.
David P
Our website is looking great. We really appreciate you working closely with us through all the stages in putting together our website. We had an amazing experience working with the Sysnovo team and would highly recommend them.
Jaime T